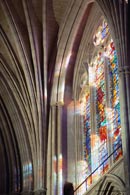 The church at Clay City began as a small congregation located at Virden, Ky. in the early 80's. In 1989 the current building was completed at Clay City and the church was relocated there. Our attendance is around 80 members. The ministers and current elders Mack Rice, Kyle Lucas, and Daniel Newell have served the church for many years. There have also been many preachers over the years to hold meetings and speak occasionally such as:
Benny Blankenship
Danny Murphy
Brock Hartwigsen
Jerry Sturgill
Jack Hall
Phillip Rainwater
Jerry Carmichal
Archie Vires
A.T. Pate
Phillip Blankenship
John Brown
Luke Newell
Tom Boyette
Along with the elders, we are also served by our deacons:
Greg Brewer, Rob Little,Jody McCoy, and Charles Rice.
Although a small congregation, we are active in our community and minister to all ages. We look forward to you visiting with us. The directions to the building are accessible from the menu to the left of this page.